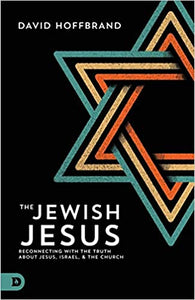 Author: Hoffbrand
Discover the Jewish Jesus
What relevance does it have for us that Jesus is Jewish and what difference should it make to our faith?
In The Jewish Jesus, David Hoffbrand explores the answers to these and related questions in a way that is accessible to everyone.
As you see how Jesus lived, thought, and taught as a Jewish man, you will come to know Him like never before, and find that His teachings come alive in their original context.
This book will also help you:
• Appreciate the Jewish context of the whole Bible, reconnecting the Old and New Testaments.

• Rediscover God's heart and purposes for the Jewish people and Israel.

• Engage with God's blueprint for the church as a unified but diverse community of believers.

• Learn principles that will help you restore the Jewish lens in a way that enriches your faith.
It's time to discover the Jewish Jesus!