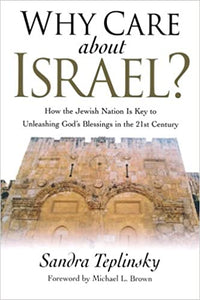 by Sandra Teplinsky 
No one can read the Bible and deny that God has specific plans for the Jewish nation. From the moment he created Israel, he loved her and set a plan in motion that is yet to be fulfilled. What is that plan? What does it mean for Arab peoples? How are Christians to respond?

With prophetic insight, Sandra Teplinsky unravels the historic roots of God's relationship with Israel and makes striking discoveries for Gentile believers today. Speaking from a Jewish-Christian perspective, she explains how revival will come as we emulate the Father's heart and learn to bless Israel.

Readers will find answers to puzzling questions about our world. But more importantly, they will resonate to the compelling call to bless and be blessed.