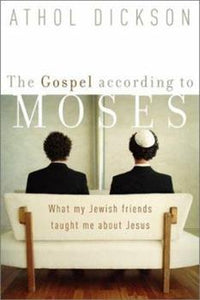 by Athol Dickson
What My Jewish Friends Taught Me about Jesus.
"Years ago I exposed myself to the possibility that Judaism might have great truths to offer, and Chever Torah (Jewish Bible study) rewarded my open mind with radical improvements in the way I live and view my Christian faith." -from the Introduction
After he spent five years attending Chever Torah, Athol Dickson found his faith radically changed-the result being a deeper relationship with God. In beautiful and simple language, The Gospel according to Moses illustrates Dickson's journey of faith exploring some of the primary theological differences and similarities between Christianity and Judaism. He draws generously on both Old and New Testament scriptures, looking at Christian and Jewish perspectives on topics such as suffering, grace vs. works, and the place of Jesus in the Hebrew Scriptures.