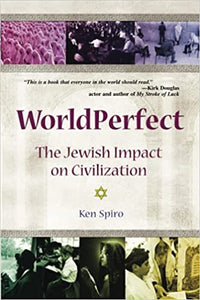 by Ken Spiro 
In pursuit of an answer to the question of what would constitute a perfect world, author Ken Spiro questioned more than 1,500 people of various backgrounds and religions. His findings revealed six core elements: Respect for human life; peace and harmony; justice and equality; education; family; and social responsibility. He then set off on a journey to find out why these were such common goals across cultural, economic, social and racial lines, and in the process, traced the history of the development of world religions, values and ethics.
As a rabbi, he paid particular attention to how Judaism impacted, and was influenced by, the course of these developments. The result is a highly readable and well-documented book about the origins of values and virtues in Western civilization as influenced by the Greeks, Romans, Christians, Muslims and, most significantly, the Jews.
The history of religion, presented in Spiro's highly readable style, is a fascinating and timely subject, especially in today's volatile religious climate. Spiro divides his book into five engaging parts:
Where the Quality of Mercy Was Not Strained: The World of Greece and Rome

Against the Grain: The Jewish View

A Father to Many Nations: Abraham and the Implications of Monotheism

With Sword and Fire: The Rise of Christianity and Islam

The New Promised Land: Impact of Judaism on Liberal Democracies
Readers of all faiths will find that the elements of a perfect world can only be achieved by a common understanding of our mutual backgrounds and that our diverse religions are all merely branches growing from one single tree.